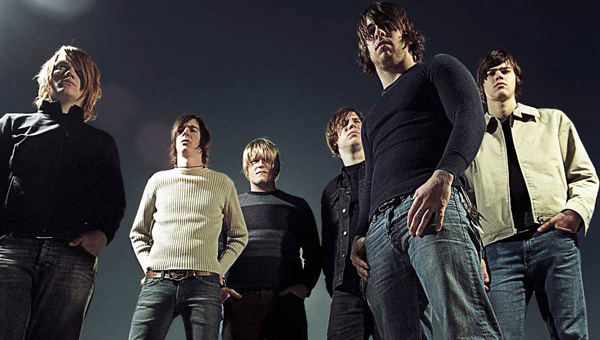 [Reposted from 2015 for an update. Since then Underøath released the album "Erase Me" in 2018. They're all old, "Screamo" is dead, and their clothes are all black now]
The Christian music world is all excited about a reunion of Underøath at the "Self Help Fest" in San Bernadino, March 16.
But I'm not.

First, I don't believe in self-help strategies. If I were clever enough to help myself, I wouldn't need any help in the first place, right?
Second, just look at these guys. Thirty minutes in a neighborhood barber shop, a shave and a little hairstyling would do wonders.
Guitarist Luke Morton said they devised the name Underøath "from somewhere in the Bible." I don't know what Bible they're using, but "Underøath" doesn't show up anywhere in my King James Version. And definitely nothing with a Norwegian "ø" thingee with a line through it.
Underøath came together in 1997 while the guys were in high school in Florida. Vocalist Spencer Chamberlain explains, "[We are Christian but] in a different way. We're not like your average Christian band." Their music has been variously described as hardcore, post-hardcore, nu-metal, emo and screamo.
Uh … Screamo?
Allmusic, an online music guide, said that "Florida's Underøath have evolved from a run-of-the-mill Christian metalcore band into a fluid, dynamic, and energized rock group." Thank God. No telling what they looked like back then.
(Oh wait, I do recall we took a look at Underøath back in 2011. But there's been no improvement).
Though the band has been noted for "setting precedent in both Christian rock and beyond," only a portion of their albums are sold in the Christian marketplace. And that's not surprising considering the fashion style they present onstage.
Seriously, guys, that khaki jacket and the sweater and several of those pairs of jeans I have hanging in my closet and haven't worn for years, maybe decades.
Open a new window. Try matching uniforms for the reunion. That would be a bold experiment.
The Ugly Christian Band of the Week feature reviews the most important aspect of any Gospel/Christian music group — its fashion style.