When the Church becomes politically powerful and culturally ascendant, it needs a court jester. Or two. Or 50.
Jacques Barzun observes in From Dawn to Decadence, "The traditional fool is not quite normal; at best, his mind is like a child's, innocent, therefore truthful and sometimes inspired. … Much of the time he is an entertainer, the jester in cap and bells; but at other times he says things nobody wants to hear and nobody dares to utter. The wise ruler listens and benefits."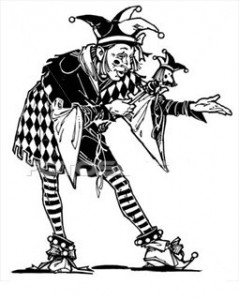 The court jester throughout history was a counterweight to the gravity of the king, a reminder to those in authority of the need for humility.
The jester is a clown, a fool, a buffoon who can't take himself seriously in this world, yet abides in the center of worldly power. He holds a mirror up to those in charge. His floppy crown and jangly sceptre show the true bankruptcy of the ruling power. Broad comedy, ribald insults and clever jibes combine to make a serious point even as they entertain. Even juggling emphasizes the impermanence of this world. Sleight of hand tricks show we can't trust our senses.
The point is, this world and our assumptions about it are absurd. The jester highlights that absurdity. He has nothing to lose and nothing to prove.
Inspired by the jester's example–not to mention the Old Testament prophets– this site's admittedly self-appointed task is  to mercilessly make fun of the petty, frivolous side issues that consume most church congregations and clergy, and to skewer pop religion and cult heresies. To expose life's grand charade, rip away the cloak hiding the idolatry in our society (and in our own personal lives). To point out the futility of all self-effort.  To help free the church to preach the cross.
According to Paul, "We are fools for Christ's sake, but you are prudent in Christ; we are weak, but you are strong; you are distinguished, but we are without honor." ( I Corinthians 4:10)
"Who Is Not a Fool?" ["Qui non stultus?"]
—Horace (65-8 B.C.), Satires, 2.3.158
We know this all sounds presumptuous (especially that "Qui non stultus?" part), so please forgive us. "Blind Folly" could just as easily describe our little enterprise here as the official pomposity we attempt to skewer. It's all in good fun, if not always in good taste.
Thanks to Wittenburg Door fan and culture critic Mike Duran http://mikeduran.com/ for some of this (although I also read that Barzun book too, ya know) , as well as Fools Are Everywhere: The Court Jester Around the World by Beatrice K. Otto http://www.press.uchicago.edu/Misc/Chicago/640914.html
Website Cover Image: Stańczyk (c. 1480–1560), the most famous court jester in Polish history. From a painting by Jan Matejko.
[You may be asking yourself, "What ever happened to The Wittenburg Door? Well, it's been inside the belly of the whale since 2008, wondering where the light switch is. But The Door is about to be regurgitated out onto the shore and come back to life in 2021. Keep watching wittenburgdoor.com for the latest!]