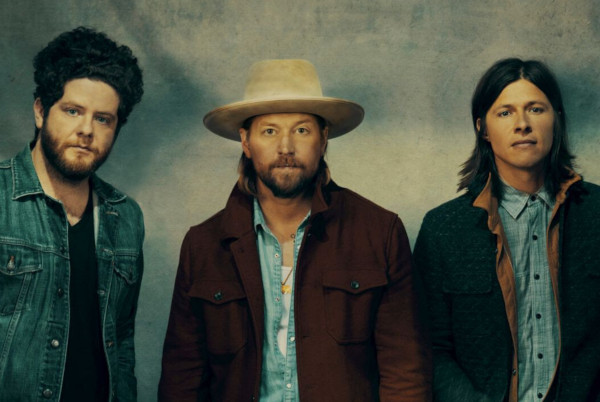 The Grammy-nominated South Carolina Christian band NeedtoBreathe delivers sweet harmonies and emotional, nuanced and insightful lyrics on their latest album, Out of Body.
But… what's with the big hat?
I realize a big hat did wonders for Pharrell Williams. But is it right in this setting? I suspect the wide brim affects the acoustics, but who knows – I'm more focused on the band's flawed style.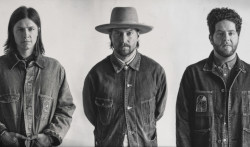 It's apparent that this group is deeply into denim. Ok. But there is a dissonance somewhere in the photo I couldn't pin down, until I noticed – in the black and white version at right – the middle guy, Bear Rinehart – his jacket's bottom button is left open! This is unacceptable, and slightly naughty.
Then, in the color photo (top), the same guy this time has the top three shirt buttons undone, revealing his tacky white t-shirt underneath and some kind of bling thing around his neck.
(The other two guys display no problems, at least none that a trip to a hair stylist wouldn't solve).
Bottom line: A sloppy exterior puts a subliminal question mark on a band's inner spiritual authenticity, and that's something you can't afford in the Christian music business.
Tighten it up, guys, then get back out there! And lose the hat.
The Ugly Christian Band of the Week feature reviews the most important aspect of any Gospel/Christian music group — its fashion style.