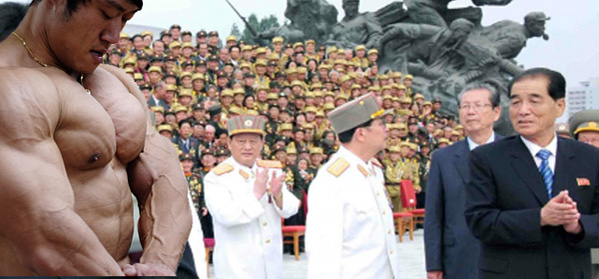 North Korea's 32-year-old Supreme Leader Kim Jong-un shocked a crowd in Pyongyang, reappearing after a month-long absence from public view and flexing his newly bulked up physique.
Despite speculation he was the victim of a coup or in failing health, Kim shocked a meeting of party dignitaries with a new look and a new attitude.
His personal trainer Kim Yung-ho explained that the Dear Leader put himself on the diet of a normal citizen of his country, eating small servings of tree bark and grass for an initial weight drop, and then bulked up with steak and eggs, protein powder, human growth hormone and steroids.
Later Kim stripped off his drab Korean People's Army uniform, oiled up his torso and posed for the crowd to loud and sustained applause.
"Dear Leader sent a delegation to the Asia Games last month in South Korea to scope out the competition, since he's planning on training for the weight lifting tryouts at the next games in 2018," his trainer explained.
What was his training regimine?
"As I understand it, to buff up, and to stave off his gout, Kim had to cut out smoking, drinking expensive whiskey and spending late-night hours binge-watching episodes of House of Cards. Instead, he woke at 4:30 a.m. for a morning run, then to the pool for 30 laps and finally to the weight room, " said latest trainer Kim. " His first trainer was fired and fed to wild dogs. This is my third week on the job."