Editors Note: Newt Gingrich is our guest devotional writer.
Focal Passage: Philippians 2:20,21–"For I have no man likeminded… For all seek their own…"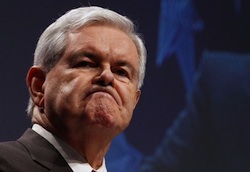 As Callista and I sat in uncomfortable metal folding chairs at our booth at the Conservative Political Action Conference (CPAC) in Washington, D.C., this week, we put up a good front, smiling and waving as our former supporters passed us by to crowd around Rick Santorum, each one drooling like a manx high on catnip tea.  No one wanted me to sign my book for them. No one asked for an "Eye of the Newt 2012" bumper sticker.  Even that Judas, Donald Trump, got more media attention than I did.
D.C. is my town! But instead of the star, I'm a supernumerary in this comedic opera.
I could probably mud wrestle Joe the Plumber in the hotel lobby and no one would blink. I'm the single voice of moral clarity and political vision in this race, and suddenly I'm the INVISIBLE freakin' MAN.
Then I recalled the words of Our Lord, "A prophet is without honor in his own country." Did that make me feel any better? No, it did not.
Instead, I recalled another verse, which I have now made my personal "life verse": Luke 9:54 — "And when his disciples James and John saw this, they said, Lord, wilt thou that we command fire to come down from heaven, and consume them, even as Elias did?"
I vote YES!  It's ON, people!